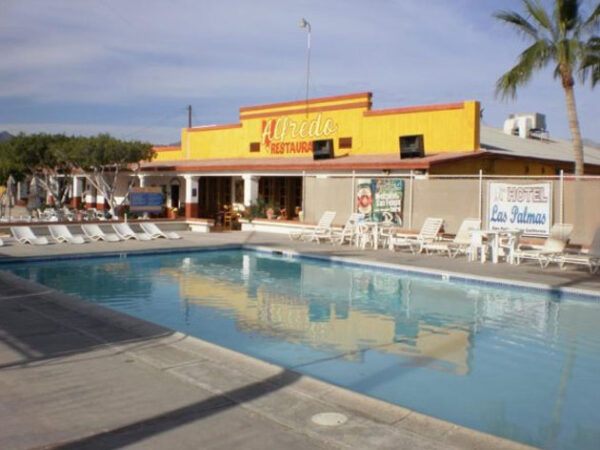 Hotels
Hotel Las Palmas San Felipe
|
Las Palmas Hotel San Felipe Bc Mexico
Surrounded by an atmosphere of a Rustic Hacienda the Hotel Las Palmas San Felipe with its courtyards covered in beautiful Bugambilias, fountains and an estuary forms a spectacular panorama adorned by the Sea of ​​Cortez and the mountains of the Sierra Madre.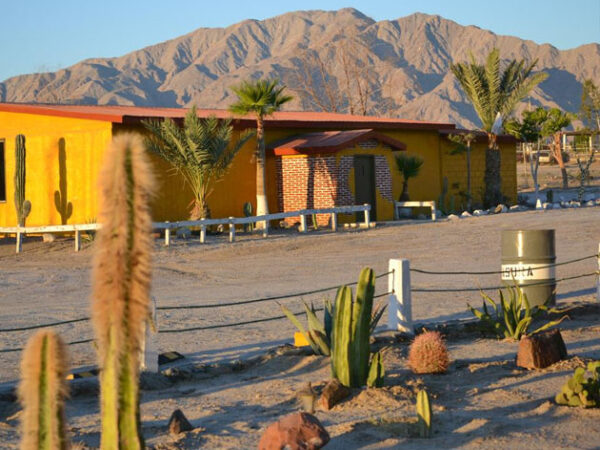 Baja California Invites you and your family to discover more than 100 miles of beautiful beaches along the Sea of ​​Cortez to the north heading to the south of San Felipe where you can walk for hours and enjoy the beautiful landscapes along the sand of its beaches.
Hotel Las Palmas Baja California Accommodations
Hotel Las Palmas San Felipe is small hotel, which is a tradition in Baja California, and even more in this town, is conveniently located 250 yards from the beach and a walkable distance from downtown, making it one of the preferred hotels in which you can enjoy a nice sea breeze during the hottest months of the year.
Hotel Las Palmas San Felipe is one of the favorites among travelers who constantly return to this destination to enjoy a few days of tranquility next to the sea of ​​Cortés.
This lodge has 48 rooms from double, triple and quad occupancy, which makes it an excellent place to host a large family, it can even host a large group of friends in a single property, and all of these enjoying the beauties of the Baja California and its beautiful views and you can enjoy its rooms towards the Sea of ​​Cortez and the mountains of the Sierra Madre.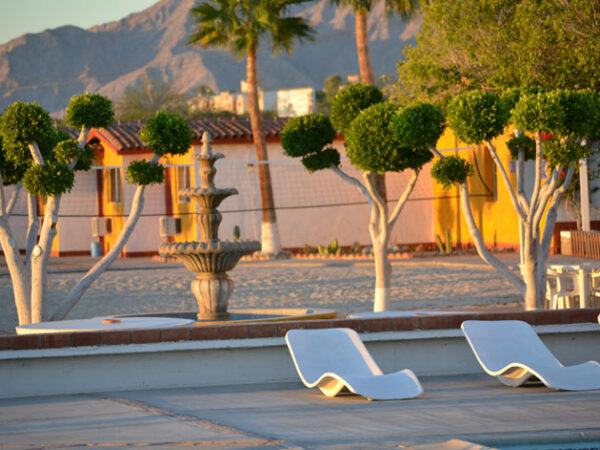 Amenities
Think about bringing your family, or just your couple, at Las Palmas Hotel there is a nice swimming pool to relax with a Pool Grill.
Go and get some beers and your precious meat have a BBQ day in the BBQ area and fire pit, to spend a whole day relaxing with your family.
The Alfredo's Restaurant and La Trucha Bar to start your day with some traditional mexican breakfast or enjoy a nice dinner or finish the day with cocktails.
Las Palmas Hotel GYM and a beach volleyball court to keep you active and fit, you won't lose condition while vacationing.
Don´t miss and Keep up with your favorite tv shows and news from home with satellite tv and connect all your devices with the wifi and share all the nice a beautiful moments you enjoy in Baja Mexico, Why not… recommend us and invite your friends to come over
And have some incredible vacations Baja Style!
Enjoy Baja and the Sea of Cortez
When not relaxing on the beach, there is fishing, golfing, off-roading, swimming, boating, kayaking, jet skiing and hiking to be enjoyed in the natural beauty that surrounds this town.
Popular day trips include driving by car or dune buggy to the tiny colony of Puertecitos, where natural hot springs located within the rocky tide pools have long attracted visitors and artists, to waterfalls located at the base of the nearby mountains.
What is the best time to Stay at Hotel Las Palmas?
Anytime. The climate is near perfect with a medium annual temperature of 71! Delightful in spring and fall, hot and dry but bearable in summer, with temps over 100 from June until September; pleasant all winter. November's water begins to take on a chill, but a light wetsuit will keep you comfortable through the winter months. The summer and fall seas are bath temperature.