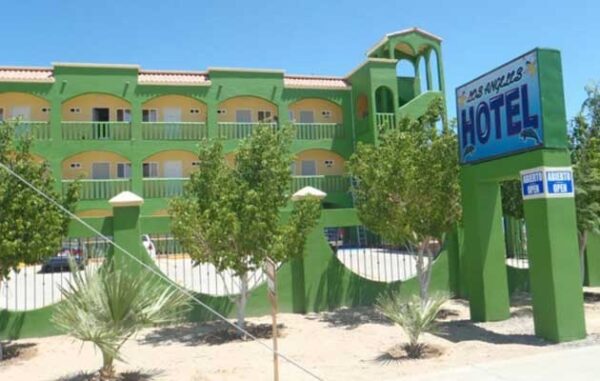 Hotels
Los Angeles Hotel San Felipe Baja California
|
Welcome to Los Angeles Hotel San Felipe
Awesome attention and caring from the very owners  awaits you at the Los Angeles Hotel San Felipe by the Sea of Cortez.
Providing a gentle and kind service to all their guest, an all time favorite from travelers and visitors.
For families looking for a great time and fun.
In Los Angeles San Felipe Hotel, this acccommodation, the main goal is to fully satisfy all their guest needs.
Bringing the bes service combined with the best rooms with a first class style quality.
And with the best prices to make your vacations more enjoyable and very affordable.
Great Location in Baja
This little town is of easy access to any place of if within walking distance.
This lodge is located jus a few blocks away from the Mar de Cortez, close to the beach and Malecon.
Everyday and excellent housekeepping guarantees you to have a nice room and amenities waiting for you
after a nice and log day at the beach.
Bring your own food and prepare it the way you like it. Some popcorn, bring some beer and more.
Counts with microwave oven, refrigerator and kitchenette.
A nice Balcony offering some of the best views in the area, so picture yourself enjoying from a nice sunset from your room.
Private parking for your RV
Great to take a break from your bed in your RV, and stay in a room like your house.
Operated by their very Los Angeles Hotel San Felipe owners and a awesome staff bringing you  the best quality,
service and a great customer service.
The staff will always will be smiley, great and helpful, looking all the time for you to have the best time in your
vacations for you and your family.
All you need to start your visit to the Sea of Cortez
Start your vacations with all you need in one stop, a great hotel, excellent location, rooms with all you need and a beautiful sea view.
For families and couples.
The great staff assist you with all you need for your vacations in the Baja Mexico.