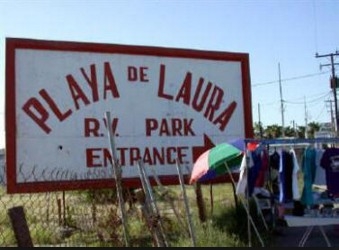 Rv Parks
Playa de Laura San Felipe RV Trailer Park and Campground
|
Welcome to a Baja Mexico RV Trailer Park and Campground
When the budget is short, and you like to live the adventure, or perhaps Camping on the Sea of Cortez is your lifestyle, Playa de Laura is your choice.|
This Trailer Park  is a great option to grab your backpack, get your sleeping bag, your tent, all your boy scout stuff and your flip flops and get down to Baja Mexico!
Playa Bonita Beachfront Camping at Playa de Laura
It is located right on the beach, you can can enjoy from the sunsets and sunrises right from your tent.
Or what is better. In case you have a recreational vehicle (RV)  or a trailer equipped with all the amenities you haveat home.
Water, Electric, Sewer hook ups, for RV´s and Hot Showers with Clean Restrooms.
San Felipe Baja Mexico RV Park
13 Spaces next to the beach equiped with electric and water hook ups. If you decide to stay for a longer period than a just a few days.
Like a weekend, a week or two, here you find some spaces for a more permanent plan on the yearly basis.
Campsites in San Felipe
Ten individual spaces in Playa de Laura for tents with electric and water hook ups, you don´t have to be like in the stone age if you don´t want or need to.
Bring all your devices and widgets you can´t live without.
From Downtown to the Beach Close to Malecon
Convenientely located in this little town a few miles from the border by Mexicali, hit the read and when you are in San Felipe Baja.
Turn right on Main Street right in the Downtown Area for about 500 Yards and then turn to your left.
It is a small place so, it won´t be difficult to find it  right on the beach close to the Malecon (Boardwalk), a a walking distance, where easily you can stock from groceries, beer and tequila.
Also there are Restaurants and Bars where you can try local traditional Food or try chilling out in a Bar sipping margaritas.