Best Restaurants in San Felipe Baja California, find great places to eat and drink
You can enjoy of the great San Felipe Mexico Restaurants in the Baja where you can taste some of the best fish tacos and steakhouses in town, Mexico has some of the best food in the world, San Felipe is pretty close to the border, but there is not the same eating traditional mexican food across the border than in Mexico.
But there is not just traditional Mexican food, you can find all kind of food, just the kind you like, at the San Felipe Mexico Restaurants here in Baja, they want you to have the best time while in town, they know you are on vacation, so they want to give you a good reason to come back.
Where are the Best San Felipe Mexico Restaurants in Baja?
Like in every other place in the world, some places are blessed with the preference if their clientele.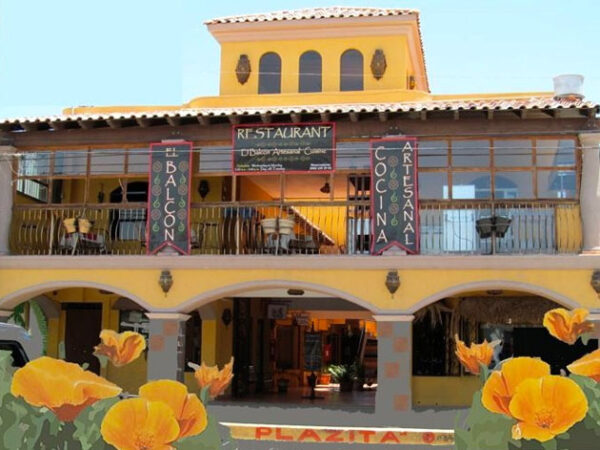 Being preferred and recommended and also being located in a great spot is a great combination for shure. But, sometimes, new places to eat come and go in different locations in town, or outside it's main spot.
Bringing a special delight because of the great view, the resort or hotel is located, or a nice attraction. Here a few ones that are very popular in town, if there is one that would you like to recommend, please write in the comments section.
The Parrots Cracker

San Felipe Brewing Company

Restaurante Rosita

The Sweet Spot Bar And Grill

Located on the Malecon San Felipe is this ideal place to relax in a quiet atmosphere accompanied with friends a pleasant place to enjoy cold drinks and the best food combined with great service and great hospitality what distinguishes The Sweet Spot Bar and Grill. It has a terrace to eat and pool tables to have fun with friends.

El Nido Steak House

One of the favorite places in San Felipe where you can enjoy a good breakfast or lunch with the best seafood and the most select steaks. El nido Steak House restaurant is part of a chain that is already a tradition in Baja California from Rosarito San Felipe to Loreto which thanks to the preference of its diners acid favorite places for a long time. Avenida Mar de Cortez #348

Mariscos La Morena

La Vaquita Marina

Chumpos Restaurant

El Padrino

Chuys Place

Taco Factory

One of the favorite places located on San Felipe's boardwalk, which highlights its pleasant atmosphere and the attention of its staff that will gladly prepare a rich variety of dishes. Taco Factory San Felipe highlight the molcajetes of seafood and meats, as well as a diverse variety of tacos accompanied by rich refreshing drinks. This place has become a favorite place for a rich informal meal with a nice view towards the Sea of ​​Cortez.

China Inn

Fuente De Sodas Karina

Baja Mar Restaurante

A first class Resturant located in the heart of the Malecón San Felipe Baja, which offers a diverse variety of dishes especially sea food, such as seafood and fish, with the special touch of traditional Mexican food, which together with its location on the boardwalk offers relaxing views of the sea from the outdoor terrace, while one can taste its various dishes such as fish tacos, seafood cocktails and specialties with the catch of the day. Baja Mar Sn Felipe is a familiar place to enjoy in the visits with family to this tourist destination next to the sea of ​​Cortés.

El Kikiriki

Rice And Beans

Mi Compa Mario

La Cabana Restaurant

Georges Hotel And Restaurant Bar

Rabbit Pizza

Mariscos La Palma

Franciss Diner

Chenchos Restaurante

Rice & Beans

El Guero

Tacos El Poblano

La Taza Gourmet Coffee

Mariscos La Morena

Birrieria El Tapatio

Tuky Tuky

Fatboys Bar & Pizzeria

El Polloyon

Rancho Alegre

La Casita De Tony

Pelicanos Playa Club

C&G Cava Boutique

Thrifty

Hay Cafe

El Sarape

Carnitas Urena

Pizza Extrema

Birria y Tacos El Batys

Las Koshinitas Teriyaki House

El Bandidos Tacos y Hot Dogs

The Sand Piper

Rancho Alegre

Buckaroo Burgers

https://www.facebook.com/BuckarooBobsBurgers/

Pelicanos Playa Club

W78P+H4 Punta de Estrella Baja California

El Refuego sport Bar

Win Club Casino

La Palapa Bar and Swimming Pool

The Pavilion Restaurant

The Lighthouse

The Red Lobster Restaurant

La Palapa Bar and Grill

Juanitos Cantina

El Sol Restaurant & Bar

El Capitan Restaurant

Als Backstreet Bar

The Barefoot Bar

La Ponderosa

Caliente

Bar Miramar

Rockodile San Felipe

This place is by far the most popular club in the destination, it is a large place that has two levels both with bars in which the upper floor offers views towards the San Felipe Malecón  while on the ground floor arriving at night becomes in one of the most popular dance clubs in the area. Rockodile San Felipe is a favorite place of all visitors and becomes the main place during the Spring break in which many visitors mainly students converge in this place to celebrate until the wee hours of the morning.

Costeno Beach Cafe

01 686 193 1393 https://www.facebook.com/palapaplaya/

New Georges Cafe

Sabores Mexico Restaurante

Bar Mareno Rancho Percebu

San Felipe Bars and Restaurants
As San Felipe is located next to the Sea of Cortez, the supply of fresh seafood and fish is guaranteed.
In case you are thinking of coming down the border for some great mariscos and fish tacos at San Felipe Mexico Restaurants.
Mariscos (seafood) are seasonal, have some periods they are not allowed to catch some species.
Come and check for future updates on when is the best time.
For the great fish tacos, you can find them all year long, some have the catch of the day which is also better.
And the supply of Coronas and Tekates will be ready at any time.
Burgers, Pizza and Sushi are available at anytime, and a great coffee too.
Enjoy of the best restaurants in Baja California at the Sea of Cortez

You are coming down to the Baja for some great vacations, and the great complement is the food.
You will be greeted and have the best service from the warm welcome from their people that will attend you.
You will have some of the San Felipe Mexico Restaurants experiences in Town, at the Malecon, by the beach or downtown SF.
Feel free to recommend your favorite one, dish, service, location.