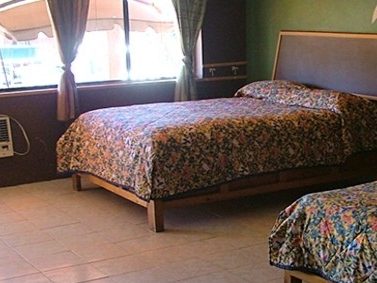 Hotels
Hotel San Felipe Inn
|
Best Hotels in San Felipe Baja California
Welcome to San Felipe Inn Hotel San Felipe BC, A nice and single place to stay with all the commodities you are looking conveniently located in the north side of town, just one block from the San Felipe Baja Malecon.
Yes, just a few steps from the sea and all the great attractions to enjoy your stay.
Enjoy  the Sea of Cortez in the Hotel San Felipe Inn Baja California Mexico,enjoy your vacations, there are with single, double and plus occupancy rooms.
All they with equipped with air conditioned for those Hot Summer days and also ti counts with a great pool to cool and relax anytime of the day, WiFi provided with no extra cost as we know that more than a commodity is a necessity in our days.
You don't have to worry to feel disconnected from the outside world while staying with us.
Sea of Cortez View from San Felipe B.C.
With an front and lateral sea of Cortez View to relax along with you and your family.
Very recommended for all their visitors due to the great attention, clean facilities and a great pool.
Come to San Felipe and discover all the wonders that BC offers, we will take care of your comfort and any local advice too, just like local.
Hotel San Felipe Inn in Baja California Mexico a brand new  Hotel
Now running under a new management, this San Felipe Inn hotel is improving and making every experience everytime better, 24 hours a day 24/7.
Now our mission is to provide the best accommodation experience and service along with the sea, sun and sand.
Nice Hotels close to beach and Malecon
This Accommodations in this small town in the Baja California has a nice and enjoyable oceanfront views, a nice pool to cool off when it is hot.
It counts with single and double rooms to accommodate easily you and your family, counts with A/C and cable TV just in case you want to stay tuned with your favorite shows.
Hotel San Felipe Inn in Baja California Mexico
This accommodation itself is a good option to stay because although the town is very small it is ideal for starting point of many activities that are planned for the holidays.
It is located at a walkable distance most of the points of interest that are in San Felipe and its value for money is very good.
In San Felipe there are no hotels and resorts of great size, so staying in San Felipe is usually a very economical option when you go on vacation.
one could stay and go camping as many do not get used to and there are very good places for that, but here they could take a short break and rest to a real bed with all the amenities of a hotel.
Especially on the days when it gets particularly hot, it has a swimming pool.
What is ideal for those summer days, I know it is near the beach, but it is always comforting to have a pool nearby or available.
In addition, the rooms have air conditioning in case they feel the need to run out of the heat.
In itself, traveling through Baja California in its small towns is always a very affordable and
affordable experience for all budgets, get out and get in your car or motorcycle and take the road in search of paradisiacal places along the coast or half of the desert, It will always be an adventure that many people over time have sought and will continue to seek.
So if you are looking for a simple quiet place to rest a few days this could be your one of your best options.
San Felipe Inn Hotel Baja California Mexico Map