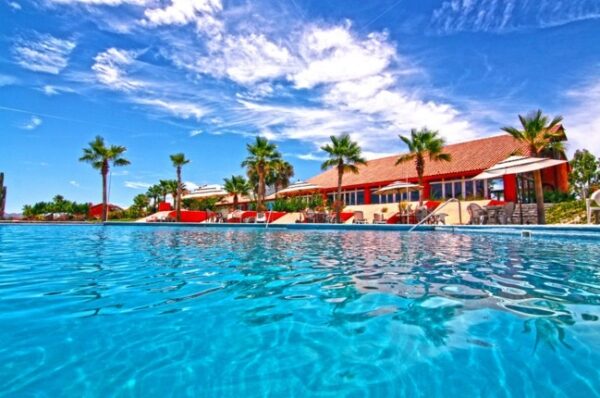 Resorts
San Felipe Marina Resort
|
Hotel San Felipe Marina Resort and Spa San Felipe Baja California is located on its own sand range, beach 3 kilometers to the south of downtown. This accommodation is in the heart of the Baja Diamante estate and next to the Sports port where you can launch and tie your yacht.
Sea of Cortez and San Felipe Marina Resort and Spa
Come and experience the luxury and safety of the Marina Resort.
Book your reservation on line or by phone for preferred rates.
Offers 68 luxury suites, all with sweeping views of the Sea of Cortez.
This complex offers tourist luxurious suites in an enchanting atmosphere of Mexico.
It features indoor and outdoor swimming pools, a spa and a restaurant.
Part of their great services and amenities are dry cleaning, luggage deposit, a safe deposit for your valuables
at your service and a great private parking where you can safely park your car in this property.
Hotel San Felipe Marina Resort Baja Spa
Spa treatments include facials, manicures and massage.
Diamante Condos
Each suite comes equipped with contemporary amenities designed to make your stay with us feel like home.
After a fun-filled day in the sun and sand – return to your suite, relax, and take pleasure in the many amenities your guest suite has to offer.
Take a siesta in your plush king bed or enjoy an evening cocktail on your private terrace and admire the scenery.
All air-conditioned accommodation at Hotel San Felipe Marina Resort & Spa has simple, bright décor.
Studios and suites feature a seating area and a kitchenette.
El Secreto restaurant
Once you are back from a great day at the beach then you feel refreshed,
take a stroll to the resort's famous El Secreto restaurant for a fresh seafood dinner.
This restaurant accounts for the freshest sea products and delivers their clients, regional gastronomic specialties of all of Mexico like the change of seasons.
Most attractive of all, the Marina Resort's incredible location so close to the azure waters of the incredible, abundant Sea of Cortez.
Will fulfill the vacation dreams of beach bunnies, water sport enthusiasts and anglers from all over the world.
Hotel San Felipe Marina Resort and  Spa Map